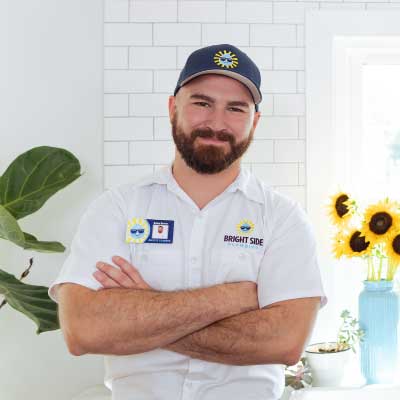 Join our team for a brighter future

Bright Side is a highly-rated residential plumbing service company based in Overland Park, KS, serving the entire Kansas City Metro.

Our mission is to create the industry's happiest and most skilled plumbers, and we want not just to help them grow but to help them grow better. These plumbers naturally produce the most satisfied clients, and that's how we'll build a company future generations will be proud of.
Who we are at the heart of Bright Side:

We do the job right
Doing the job according to the local code is the objective standard by which we complete our work. We don't expect to memorize the codes completely, but we require the ability to use code books and product instruction manuals to get the job done correctly every time.
We are always growing
Our culture is a humble one that asks questions. There is always new information to learn and skills to gain. We seek resources and others to help us get better. There's no other way to become the best.
We own our work
We stand by our work as a company and as skilled individuals. If something needs to be made right, we will make it right.
We are winners
Our culture sets the stage for positive attitudes, high expectations, and successful performances. We come together as a company to win, and we root for our team members to succeed in their professional and personal lives.
We have character
Reputation means everything to us, and we do the right thing whether others are watching or not.
We dream big
We realize our potential to achieve life's biggest goals by becoming the best at what we do.
Hear from our employees: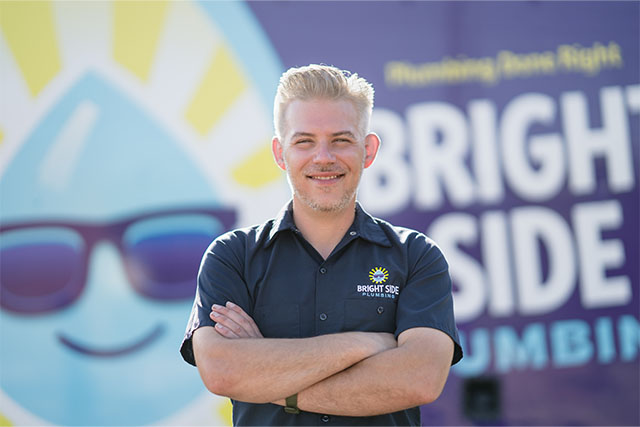 James Gardner, Service Plumber
"I joined Bright Side to learn and become a master plumber. Thanks to how much care and attention I've been given, my knowledge, skill, and income have grown much faster than I imagined."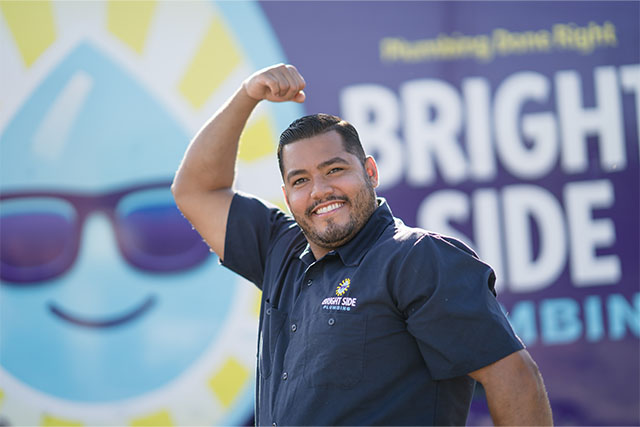 Mario, Service Plumber
It's-a-me, Mario! I'm a service plumber here at Bright Side Plumbing, and I love all aspects of plumbing.
Your well-being is a priority:

Receive Essential Care
We offer fully paid medical, dental, and life benefits to cover your fundamental health, with on-call doctor services via text and phone for round-the-clock care.

Thrive
We offer fully paid monthly chiropractic and therapeutic massage care.

Get Fit
We offer fully paid health club memberships to Lifetime Fitness and Genesis Fitness.

Unplug and Revive
We offer generous time off and promote work-life balance.

Save
We offer a matching 401(k) plan.

Perform and Prosper
We highly compensate for high performance.

Current Position Openings Available: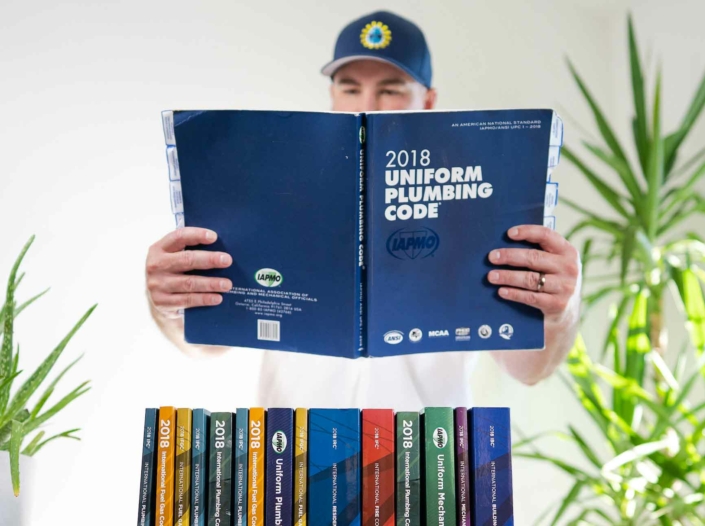 Apprentice Service Plumber
Click here to learn more about becoming a Bright Side Apprentice Service Plumber with a $1,000 sign-on bonus.
More info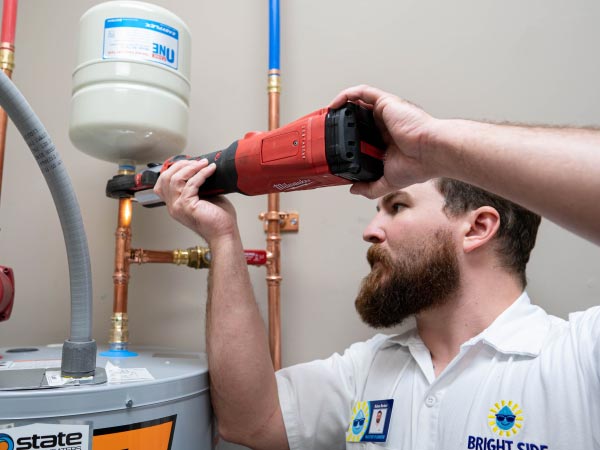 Plumbing Installer
Click here to learn more about becoming a Bright Side Plumbing Installer with a $2,500 sign-on bonus.
More info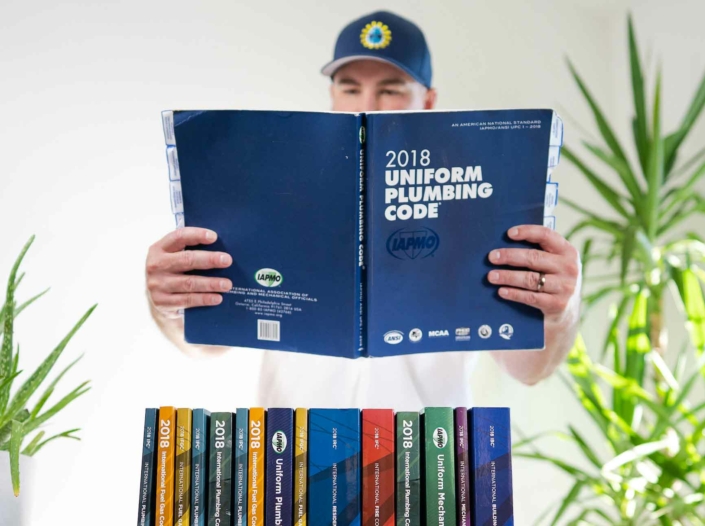 Service Plumber
Click here to learn about becoming a Bright Side Service Plumber with a $5,000 sign-on bonus.
More info
The Bright Side Guarantees
On-Time
If we don't arrive within your scheduled window, We will give you $50 off.


Lasting Repairs
We offer plumbing warranties AS LONG AS YOU OWN YOUR HOME.


Done Right
All repairs are performed or reviewed by a licensed Master Plumber.


Flat Rate Pricing
We charge by the task,
not by the hour
. We guarantee you'll know the exact investment amount before the task begins, or the task is free.

Clean Technician
If our technicians neglect to clean up after themselves, WE PAY YOU $200- or we will send a professional cleaning service to tidy up your entire home.


Plumbing, Sewer & Water Heater Services in Kansas City
Plumbing Repair
Household plumbing repair or replace any piping or valves in your home, including gas.
Drain Cleaning
Drain cleaning or unclogging any fixture, faucet, drain, or sewer in your home.
Water Heaters
Quick repairs, replace or install any water heater system to keep your water hot.
Sewer Cleaning
Sewer cleaning is our specialty. Repair or replace your sewer drains to keep them clean.

Fix Leaks
Fix leaks in your house whether it be water, drain pipe or gas leaks permanently.
Sump Pump
We also specialize in pump system installation and replacement to keep you dry.

Bright Side
Plumbing

is a member of the top three plumbing organizations, so you can confidently choose us.

Every plumber should have a depth of knowledge of plumbing and the many codes it takes for permanent results, but most do not. Is your plumber an active member of a plumbing code association?


Anyone can call themselves a plumber, especially in Kansas City and Missouri, where no license is required to be a service plumber or to offer drain cleaning. That's why Bright Side Plumbing emphasizes understanding and applying code standards to the work of each plumber.